Produkte von OCB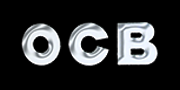 No results were found for the filter!
'OCB ActivTips' ExtraSlim ActivatedCharcoalFilters
'OCB' 'Activ'Tips' extra slim activated charcoal filters with ceramic caps for rolling your own cigarette and indulging cool, dry smoke. Specially formed activated charcoal pellets are used for 'Activ'Tips' emphasising the optimal...
'OCB' Virgin Rolls slim
'OCB' Virgin Rolls slim. These 'Virgin Paper' Rolls from OCB are unbleached und have a natural brown colour. Like all OCB-Papers are this 4000mm 'Virgin Paper' Rolls made of Hemp, which burns slowly and uniform. Gummed with natural...
OCB King Size papers with tips
'OCB King Size Cigarette Papers & Filter Tips These original OCB cigarette papers come in a counter display box, complete with filtertips.
'OCB' 'Black' (small) cigarette papers
'OCB' Black Premium Cigarette Papers with gumming made of natural gum arabicum and with double pullouts. With hologram on every booklet. A display box contains 25booklets a 100papers.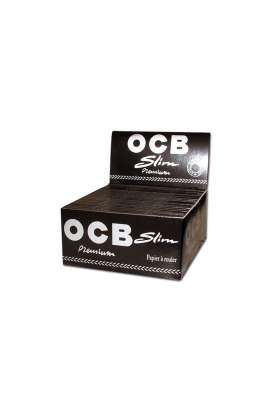 OCB Slim Premium KS 'Black'
The 'OCB' Premium Paper in king size slim format has a gumming made of natural raw fibres. The papers come in a display with 50booklets.
'OCB' Premium Cigarette Paper Rolls Slim
'OCB' Rolls Premium Slim - cigarette paper at a stretch - with rubber coating made of natural raw material and a small window to determine, how much paper is left on the roll. The rolls come at 24pcs in a display.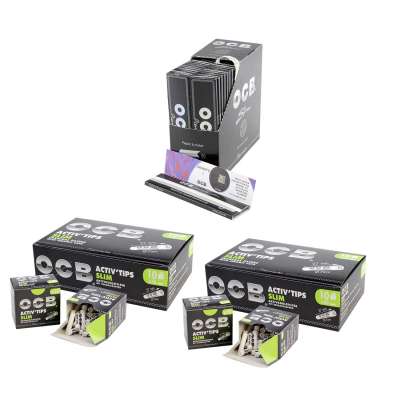 'OCB' 'Activ'Tips' Slim Charcoal Filters + Papers
This 'OCB' promotion set includes two boxes 'Activ'Tips Slim' activated charcoal filters with display, one box 'OCB Premium' papers in king size slim format and five promotional posters for the activated charcoal filters. So every shop...